AFL Victoria

The AFL Herald Sun Shield Official Launch was held at the Western Bulldogs Football Club on 16 May 2018. Staff & Students from Flinders & Woodleigh enjoyed the presentations by Western Jets TAC coaching staff & the photo shoot on VU Whitten Oval. Schools representing SIS in the 2018 were as follows:- senior girls St Francis Xavier... senior boys Padua... intermediate girls Padua... intermediate boys St Francis Xavier

AFL Snr Boys HSS

Representing SIS in the AFL Herald Sun Shield senior boys competition was Padua College. The boys were competitive throughout the semi final game vs Salesian College & were defeated in the final quarter of the game. Congratulations boys... a great achievement...

Performing Arts Concert

Congratulations to all students involved in the BIG Night Concert at the Drum Theatre on Tuesday, 27 March. Another very successful evening of music and dance, our students were impressive with the variety of items this year including - percussion ensemble, duets, stage bands, singing/dance ensembles, concert band, choir.

Swimming Division A

A.M.A.Z.I.N.G. 2018 Champions - A very strong squad of swimmers from Flinders Christian Community College achieved great success to defeat the swimming champions Padua College of 28 years. Flinders students started strong in relays & maintained their great performances for the entire carnival. Congratulations to Y12 student Matthew Faoro, Padua College who gained his 8th SIS record & now holds a record in every SIS age group.

Swimming Division B

Balcombe Grammar were the 2018 Division B Champions swimming ahead of the competition & winning by 133 points. Congratulations to all students & we look forward to Balcombe competing in Division A in 2019.

VSAC

Initiated by Swimming Victoria, SIS students proudly accepted the opportunity to represent SIS in the Victorian School Associations Competition. 74 students from 11 SIS schools performed strong in the water with two 3rd places in male relays & 1 SIS record broken in U/17 female backstroke. Congratulations to all students.

AFL Inter Boys HSS

St Francis Xavier College represented SIS in the intermediate boys AFL Herald Sun Shield division 2 competition. The team were highly competitive in the semi finals & were defeated in the grand final game against Emmanuel College. A terrific effort boys ... congratulations.

Cross Country Champions - Division A

Padua College continues it's run of 31 successive years as the champion school of SIS cross country. Congratulations to the students & staff for your commitment to the SIS program. We look forward to celebrating your continued success in the future.

Division B - Cross Country Champions

Balcombe Grammar succeeded in securing it's second SIS carnival win during 2018. Talented athletes looked comfortable with the lead for most of the day & many personal best performances were recorded. Well done Balcombe - we look forward to your return to Division A in 2019.

SIS Teen Chef Champions

Every year our talented student chefs plate up dishes that astonish our judges from the Australian Culinary Federation. Nazareth College were the 2018 SIS Teen Chef Champions & we congratulate them for winning this prestigious event.
In the news
SIS DEBATING CHAMPIONSHIPS... Oh so Close !
In the senior final SFX Beaconsfield defeated Berwick Grammar on the topic "That all artists should be paid a living wage by the government".
The students presented some really interesting arguments & spoke with experience & polish.
Cornish defeated St Johns in the intermediate final. They debated the topic that "Australians should have to obtain a license to vote".
This debate brought up some very mature arguments about the rights of all citizens to vote without obstacle versus the benefits of an informed & enthusiastic electorate.
Woodleigh narrowly defeated SFX Berwick in the junior final. This debate was very close & both teams presented convincing arguments for & against the topic
"That parents should financially reward their children for improving personal school results".
CONGRATULATIONS TO ALL STUDENTS
SIS JNR BOYS NETBALL CHAMPIONS - SFX-BERWICK

We had an exciting season of junior boys netball. The boys enjoyed the close competition between SFX-Berwick, John Paul, Flinders-Tyabb & SFX-Officer.
Pictured above is the champion team from SFX-Berwick - congratulations team SFX.
BOWLS VICTORIA SUPER SERIES TOURNAMENT
Representing SIS in this year's Super Series Tournament, were students from St Peters College-East Campus. The young team of now Year 8 boys, won the inaugural 2017 SIS Lawn Bowls Championship & were asked to compete in the competition against the premier teams in other Victorian sporting associations.
We are very proud of these students & look forward to watching them compete in the SIS Lawn Bowls Championship on 22 November 2018.
Congratulations & thank you for your involvement.
ST JOHN'S COLLEGE - PREMIER SOCCER - SENIOR BOYS
St John's College represented SIS in the the FFV / Melbourne City Premier Soccer competition on 7 September. The premier senior boys teams from eight victorian sporting associations gathered for the tournament in Epping. St John's played competitively against Sydenham, Mazenod & Trinity & already looking forward to the opportunity to play once again in 2019.
CHESS CHAMPIONS - ST PETER'S COLLEGE


On Tuesday, 11 September the 2018 SIS Chess Championship was held at Flinders College in Tyabb & the tournament was hosted by ChessKids.
A big, bright, open venue held over 150 students over 7 heart-pounding rounds of chess.
Students enjoyed the chance to battle it out with 7 different opponents over the course of the day.
There were some tight games, some resounding victories, but the best part of the day was seeing more experienced students talking through games with their younger/less experienced counterparts and passing on tips and tricks from their own experience!
Congratulations to the St Peter's College students who were awarded with the Overall Championship Shield.
Nazareth finished in 2nd and Woodleigh in 3rd place.
The individual medal winners:
GOLD-
Darcy Paulka (St Peter's)
Anthony Ouch (St Peter's)
Finlay Moore (St Peter's)
SILVER-
Isaiah Libermann (Woodleigh)
Vincent Nguyen (Nazareth)
BRONZE-
Ron Rempis (Nazareth)
CONGRATULATIONS TO ALL PARTICIPATING STUDENTS
HIGHLIGHTS FROM JOHN PAUL COLLEGE - ATHLETICS, NETBALL, SOCCER
John Paul College has improved their overall results in the SIS sports program this year & students have also participated in a variety of recent competitions.
The Athletics Victoria Relay Championships welcomed many JPC students including the girls U/14 team that finished 4th overall.
The JPC jnr boys netball team finished in the top 5 at the state netball championships.
FFV & Melbourne City hosted a premier shield competition that was entered into by the JPC snr girls soccer team.
1, 2, 3... JPC ... Well Done !!

AFL HERALD SUN SHIELD COMPETITIONS
The St Francis Xavier College intermediate boys team were outstanding in this year's competition held at Parkville.
They defeated favourites Aquinas & their success continued with MacKillop & Kardinia and in their final game, Emmanuel College got over the line.
Congratulations to the boys on a very solid day of round robin football.
MARS Stadium in Ballarat hosted the grand final on 15 August - SFX defeated by Emmanuel by 29 points. Well done SFX.

A very skillful Padua College intermediate girls team were most competitive against APS & Luther at Casey Fields. Ivanhoe defeated Padua in a very close final game.
Congratulations to the team for participating & enjoying the experience.
The senior boys from Padua College were highly competitive during the semi final against Salesian in Sandringham.
Best wishes to the Year 12 students who represented Padua in their final year & thank you for your participation.
Thank you to the SIS sports co-ordinators, coaches & the AFL for providing this opportunity for SIS students.
GIRLS FOOTBALL - SIS CHAMPIONS - PADUA-MORNINGTON

Congratulations to the Padua-Mornington junior & intermediate girls football teams who won the overall pennants.
Both teams displayed very promising talent & were undefeated this season. Well Done Girls !
SIS ATHLETICS CHAMPIONS - DIVISION A & B
The Division A Carnival was held at Lakeside Stadium on 27 August 2018.
Padua students were outstanding as they were awarded the Overall Champions along with the Junior, Senior, Aggregate Girls & Boys Shields.
Students from St Francis Xavier were very competitive, winning the Intermediate Shield.
The Merit Award was presented to Cornish.
Congratulations to the following students that broke SIS records:-
Minyil Kiir & Nancy Agostino (SFX), Shahd Mohamed (St Peters), Abbey Bradley-Power (Flinders), Tristan Rogers (Padua), Veronica Sheedy (John Paul).
The final placings were:-
1st Padua
2nd St Francis Xavier
3rd John Paul
4th Flinders
5th Cornish
6th St Peters
On 28 August 2018, Division B students were highly competitive throughout the entire carnival.
Woodleigh were announced the Overall Champions & also won the Junior & Senior Shields.
The Intermediate & Girls Aggregate was awarded to Balcombe.
St Johns students were awarded for their improved performances by winning the Boys Aggregate Shield & Open Boys Pennant.
Berwick Grammar were recipients of the Merit Award.
The final placings were:-
1st Woodleigh
2nd Balcombe
3rd St Johns
4th Nazareth
5th Berwick - boys only
6th St James - boys only
SIS TEEN CHEF CHAMPIONS - 2018 - NAZARETH COLLEGE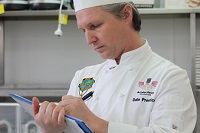 All 12 member schools participated in this year's Teen Chef competition, hosted at St Johns College on 6 August. A vegetarian theme was followed and the teams were very creative with their dishes.

We were fortunate to once again have judges from the ACF to observe, advise and judge the competition. They provided some guidance during the competition to ensure success for all participants. The judges were very impressed by the techniques that the students used and agreed that the complexity and creativity in dishes were both surprising and impressive for secondary school students.

Congratulations to all schools involved and especially to our winners - Nazareth College with their delicious winning dishes - Quinoa Burger with sweet potato chips & guacamole and Rhubarb & Berry pie with creme anglaise.
SIS THEATRESPORTS CHAMPIONS
Congratulations to all students who participated in the SIS Theatresports Championship on 24 July.
Impro Melbourne tutors were delighted with the performances of 2018.
In the junior section, The Oak Millers from St Francis Xavier-Berwick were outstanding and crowned the overall champions.
Most supportive improvisor - Ovin (Berwick)
Best Physical Offer - Raf (Balcombe)
Best Line - Ryan (St Peters-West)

The St James Soviets impressed the audience to win the senior championship shield.
Most supportive improvisor - Lily (Balcombe) & Ace (St Johns)
Best Physical Offer - Harry (SFX-Beaconsfield)
Best Line - Shana (John Paul)
SIS OFFERS INDOOR CRICKET TO THE GIRLS
SIS weekly sport competitions were extended this year to include the opportunity for junior & intermediate girls to play indoor cricket.
Making history with SIS - Flinders-Tyabb, John Paul (pictured), Nazareth, Padua-Mornington, SFX-Beaconsfield, SFX-Berwick, St Johns & Woodleigh (pictured).
The girls enjoyed this wonderful game with St Francis Xavier-Berwick winning the junior pennant & Woodleigh winning the intermediate award..
Fixtures
2018 Weekly Sport Fixtures
Please click here to download the complete weekly sport fixtures in pdf format.
2017 Highlights
Default
Title
Date
Random
Cross Country - Division A - Padua

30 successive years - amazing !

Book in a Day - Winning Novella - Skin Deep

Congratulations Padua-Rosebud

Inter Boys Cricket Champions - St Francis Xavier

St Francis Xavier def Padua-Tyabb !! Congratulations !!

AFL Herald Sun Shield - Senior Girls

SFX-Beaconsfield runners up Division 2 - AFL HSS - Well Done Girls and thank you for representing SIS

Nazareth College wins SIS Chess Championship

Athletics Carnival Champions

Division A - Padua College

SSAV Golf Championship

Thank you Golf Victoria & congratulations to our Cornish & St Peters students

Public Speaking Champions - Cornish

Cornish College - Champions

Division B Swimming Champions - Flinders

Congratulations Flinders College... Division B Champions

Division A Swimming Champions - Padua

Congratulations on an impressive 28th successive victory

Inter Girls Volleyball - 1, 2, 3 = JPC

The BIG Night Concert - 20th anniversary

Congratulations to all performing arts students

Junior Theatresports - Flinders-Tyabb

Snr Theatresports - Balcombe

SIS Swimming Record Breakers

Padua students, Matt Faoro & Roman Nestoriwskyj receive certificates for their record breaking performances at MSAC Swimming. !! Congratulations !!

…

SIS XC Record Breakers

More records for Padua... Callen Goldsmith holds 3 SIS cross country records & Mia Bilston broke the U/14 girls record

…

SFX - Jacob Hinds

Best batsman - Jacob Hinds - presented with a cricket bat signed by the Australian Cricket Team. Proudly supported by Cricket Victoria.

…

Jnr Boys Football

Congratulations to St Johns student Kenneth Liyanage for his efforts kicking two goals.

Division B Cross Country Champions - Flinders

Congratulations to Flinders - Division B Champions

SFX - Brooke Smith

Best Player - Brooke Smith - presented with a sherrin by AFLW, Carlton Player, Laura Attard. Congratulations Brooke
load more /
hold SHIFT key to load all
load all